Take the Sky: by Ducado VeGA
Take the Sky is a book of motivational quotes and perspectives. It is a book that addresses the burning question who am I and what is my purpose? It's messages are intended to inspire and motivate. It offers tools and strategies on how to move forward and live the best life you can possibly live. Chalked full of energetic and positive messages, the book will give you insight on what it takes to live in destiny, truth, love, prosperity and keys to fulfilling your purpose. It is thought provoking, witty and bold. It awakens the imagination and feeds your soul. It challenges and entertains you. It is your accountability partner and guiding light.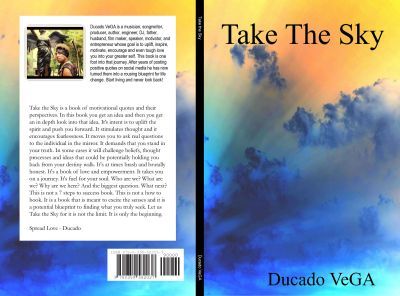 The paperback is available in 2 sizes - 6 x 9 and 8.5 x 11
Also available in PDF eBook.
Please Note: 
The 8.5 x 11 version is titled on the LuLu.com website: Take the Sky (SE)
To purchase the 6 X 9 Paperback Version Click the button below
To purchase the 8.5 x 11 Paperback Version Click the button below
To purchase the PDF eBOOK Click the button below
Connect with us on Social Media