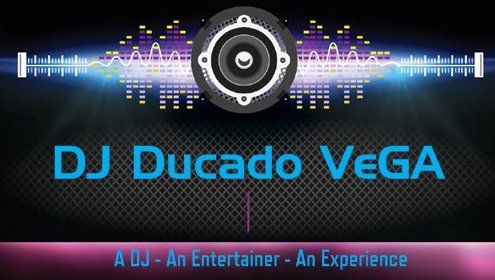 Ducado VeGA is a seasoned DJ, performer, musician and producer from Dallas Texas. He caters each DJ experience to the client's specific taste. Having provided sound experiences for Night Clubs, private parties, weddings, wedding receptions, political fund raisers, the United States Marines, school functions, wrestling matches, holiday parties, graduations, corporate parties and beyond, Ducado brings an optimal level of professionalism to each and every event he DJs for. 

100 % client satisfaction is our goal. Your event is our event and we care about making sure that each person in attendance has an experience filled with fun, good times and great memories. 
A DJ Ducado VeGA Sound Experience will be engaging, unique and exciting.  We are committed to making your event a one of a kind special occasion.  We consult with you directly to make sure every detail is covered.  We cater to your specific needs.  Each client and event is different and our service is geared towards the individual needs of each client.  
Specializing in music genres
Country/ Pop/ Dance/ Latin/ Tejano/ R&B/ Soul/ Rap/ Oldies/ Rock/ Disco/ Alternative/ International and beyond. 
You Want It We Play It. No Music Genre Left Out. 
PRICING
Parties, Private Events, Corporate Parties and Social Functions: $650 - $2500
Weddings/ Receptions: $550 - $2000
Karaoke DJ Services Also Avaiable: (Please Contact Us Via Message for Rates) 
All Packages Include Professional Sound (PA System) 
Professional Lighting and Emcee Services also available
DJ Ducado VeGA The Wedding Specialist
When you hire DJ Ducado VeGA for your wedding and reception you are getting a dependable experienced DJ with an extensive background in music and entertainment.  Your event becomes and experience.  He engages the guests, he is a phenomenal MC, his energy is amazing and he cares about each and every client who entrusts him with their very special day.  We understand that your wedding is one of the most important days of your life and it is our job to make sure that the music portion is stellar.  If it is an exciting evening and a party you are looking for, DJ Ducado VeGA is the man who will make it happen.  
Ducado works closely with you the client to ensure that your experience is top notch.  Don't cut corners.  Don't settle for inexperience.  Don't put the responsibility of your big day's music into the hands anyone who is not 100% invested in making sure your are happy at the end of the day/night.  Our commitment is to you and to customer satisfaction.  You get an experience.
Hiring Ducado to DJ your event is an easy process.  Go to our contact page and fill out the form.  We will contact you for a consultation. You can also reach us by phone at (469) 645 - 1777.  We would like to thank you in advance for your consideration.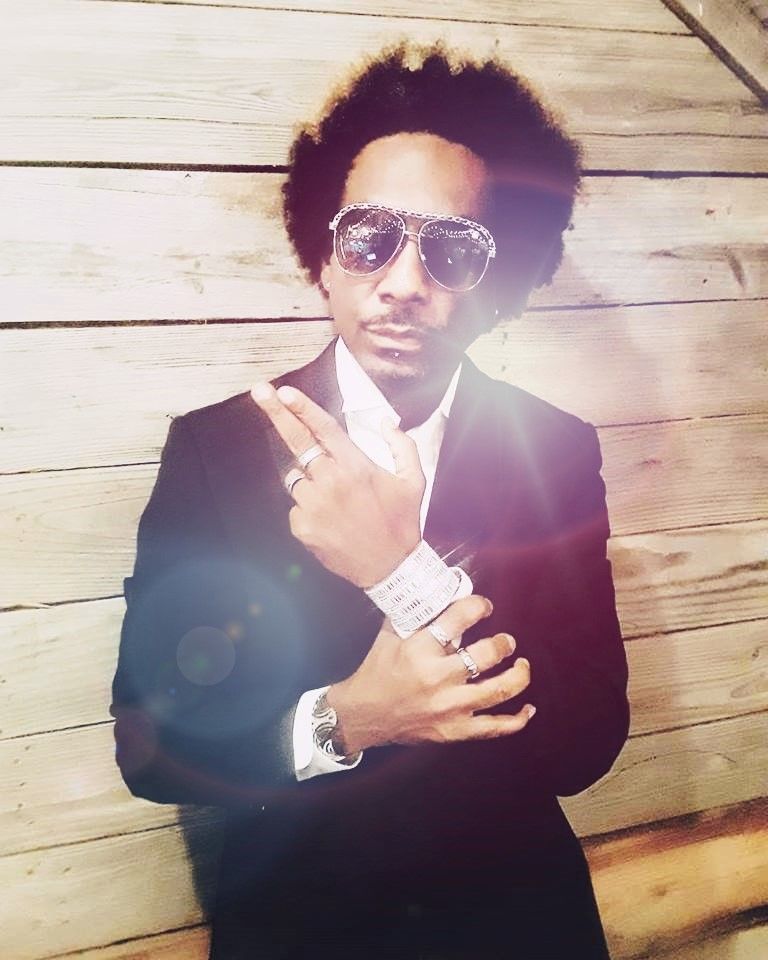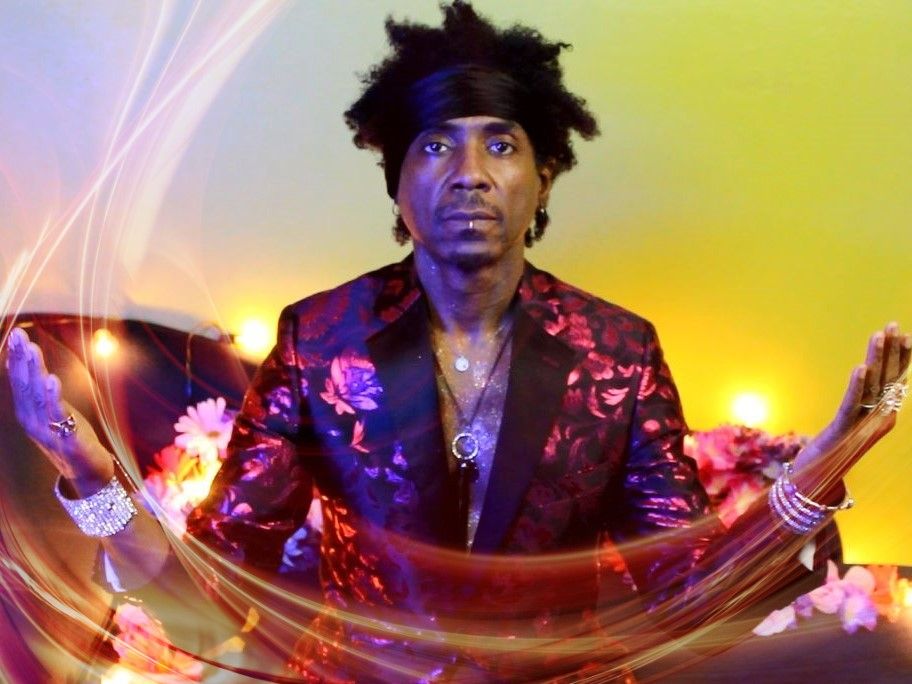 Client Reviews Below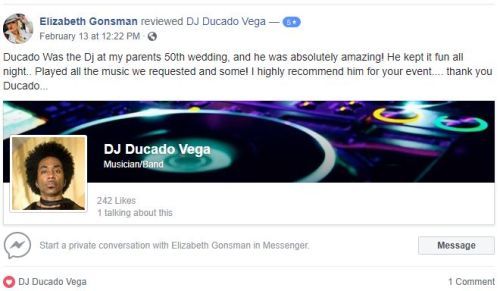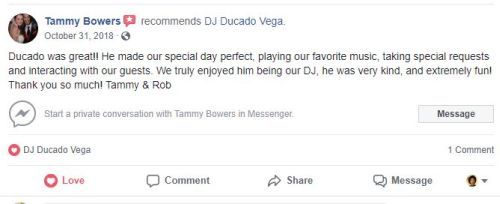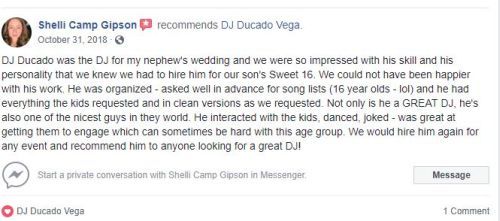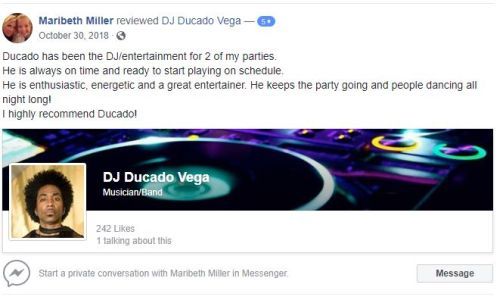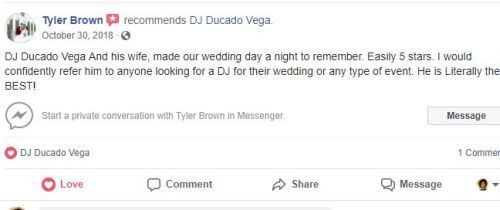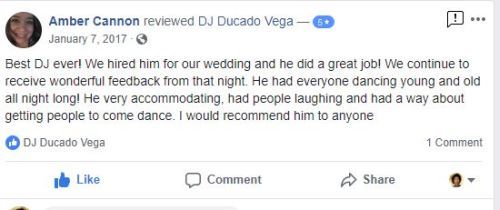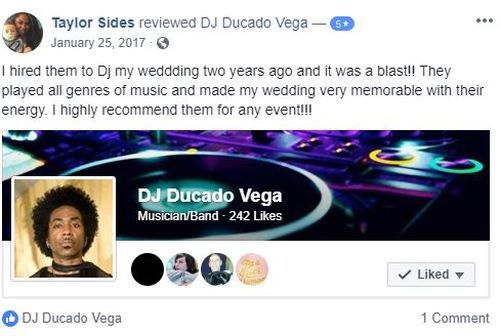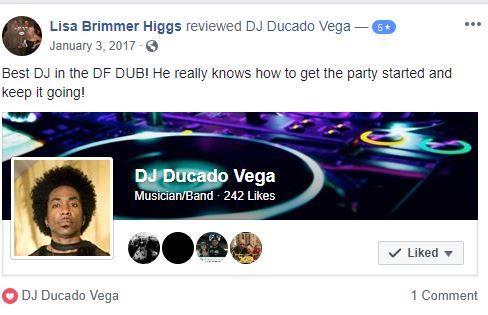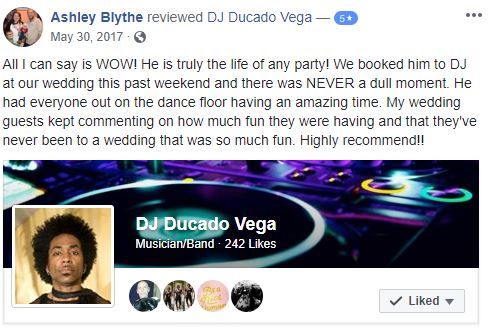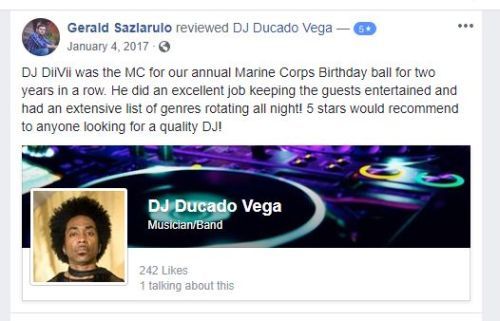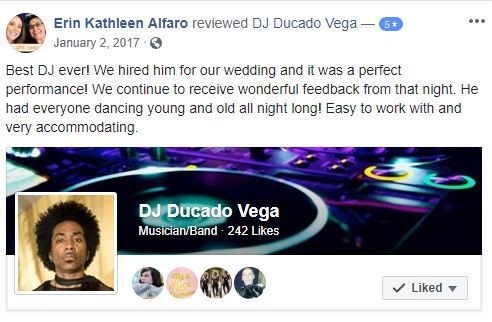 Connect with us on social media